Rains to Worsen Cholera Outbreak In Lusaka, Zambia As Rainy Season Starts, Says WHO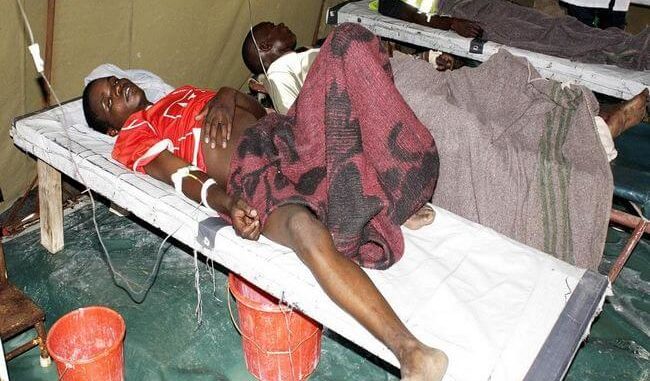 The World Health Organization, WHO says the Cholera outbreak that has killed 15 people and made 547 sick in Lusaka is expected to grow further as the rainy season starts.
"The coming of the rainy season, coupled with inadequate water supply and sanitation, increases the risk of outbreaks in Lusaka and other parts of the country," WHO said.
The outbreak that began on Sept. 28 but appeared to die down by Oct 20, with fewer than five patients reported weekly until Nov. 5. But then the number of cases surged, with 136 in the week beginning Nov. 26.
Improving access to potable water and sanitation infrastructure, and improved hygiene and food safety practices in affected communities, are the most effective means of controlling cholera. Use of oral cholera vaccine may also be used for outbreak control. Key public health communication messages should be provided
According to WHO, the main affected areas are the densely populated districts of Lusaka, Chipata and Kanyama, where poor sanitation may favour the spread of the disease.
There is also a high risk of disease outbreaks in Zambia's Nchelenge refugee camp, which is more than 1,000 km from Lusaka, and holds more than 60,000 refugees, mainly from Democratic Republic of Congo, which is also suffering a cholera outbreak.
Cholera is spread by ingesting faecal matter and causes acute watery diarrhoea. Although most sufferers have no symptoms or mild symptoms that can be treated with oral rehydration solution, the disease spreads rapidly and can kill within hours if not treated.
Zambia's health ministry has previously banned the sale of ready to eat foodstuffs on the streets of Lusaka in a bid to curb cholera but the cases continued rising.
WHO is however working with the government and other partners to control the outbreak and has since recommended proper and timely case management in Cholera Treatment Centers.
"Improving access to potable water and sanitation infrastructure, and improved hygiene and food safety practices in affected communities, are the most effective means of controlling cholera. Use of oral cholera vaccine may also be used for outbreak control. Key public health communication messages should be provided," it said. Source: Pocket News