Queen Inadvertently Coordinates With Her Nigerian Guests As She Welcomes Them to Private Audience at Buckingham Palace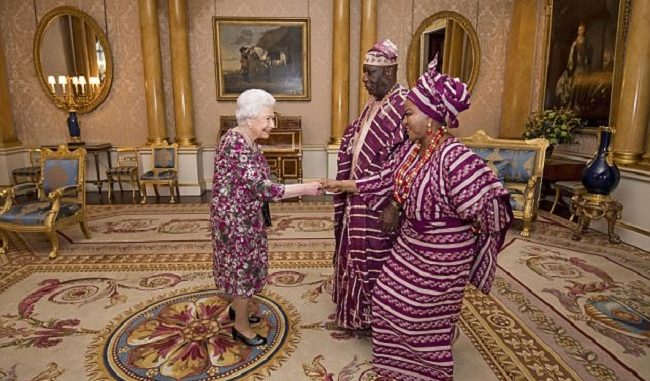 The Queen welcomed the High Commissioner of Nigeria to Buckingham Palace
Both he and his wife were dressed in identical colours to Her Majesty
He visited the palace to present his Letter of Credence on Wednesday
The Queen is rarely a victim of a fashion faux pas, however, she suffered a slightly awkward moment today when she perfectly matched her outfit to that of her guest.
Her Majesty welcomed several dignitaries to her home during a private audience at Buckingham Palace on Wednesday.
The 91-year-old royal looked her elegant best in a purple dress with a cream and green floral motif to greet her guests.
However, little did she know her Nigerian visitors had an almost identical colour combination planned for their outfits.
George Adesola Oguntade, the High Commissioner of the Federal Republic of Nigeria, and his wife Mrs Oguntade arrived at the palace in spectacular traditional dress.
The couple opted to wear a matching fabric with the High Commissioner wearing a purple Agbada with a cream stripe decorating it.
His wife's Buba and Gele – a traditional Nigerian shirt and head scarf- were identical in shade with both her husband and the Queen, and featured a geometric pattern in the same cream colour.
The trio appeared to see the funny side, pictured laughing as they were introduced at the palace today.
Oguntade visited the palace to present his Letter of Credence to the Queen on Wednesday.
Her Majesty, 91, also welcomed Mr Rami Mortada, the Ambassador of the Lebanese Republic, with his wife, Mrs Gamal Yehia.
At Buckingham Palace, audiences are either held in The Queen's Audience Room or in the 1844 Room.
The Queen gives a weekly audience to the Prime Minister and will also have a private audience with the Chancellor of the Exchequor before a new budget is announced, as well as with visiting Heads of State who are not attending on an official State Visit.
The Queen also chairs Privy Council meetings, which are held regularly throughout the year, usually around once a month. Source: Pocket News