Nigerian Senator Appears in Rap Video, Acting Like A Star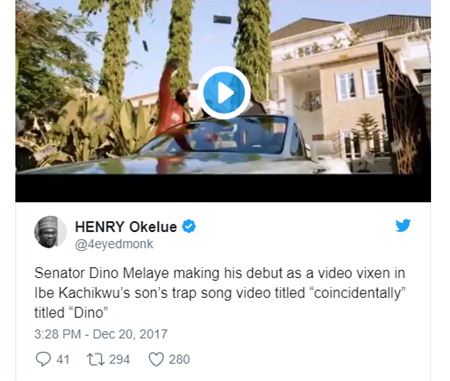 Eyebrows have been raised across Nigeria after a senator famed for his love of the high-life appeared in an Afro-Trap music video wearing a T-shirt emblazoned with one word: Legend.
Dino Melaye may only have a cameo in the lavish video – which features musician Kach, who also happens to be the son of Nigeria's oil minister – but he is arguably the star of the show.
After all, the song is called "Dino".
But is it satire or simply a suggestion the Kogi West politician is oblivious to the criticism which swirls around him?
The video includes lyrics about "ballin'", "Gucci" and "telling the truth just like I'm Dino", while the video shows Kach throwing money over a woman sitting on a sports car, and eating $100 bills with his friends.
This is seen as particularly insensitive by some given Kogi State's poor record on paying government workers.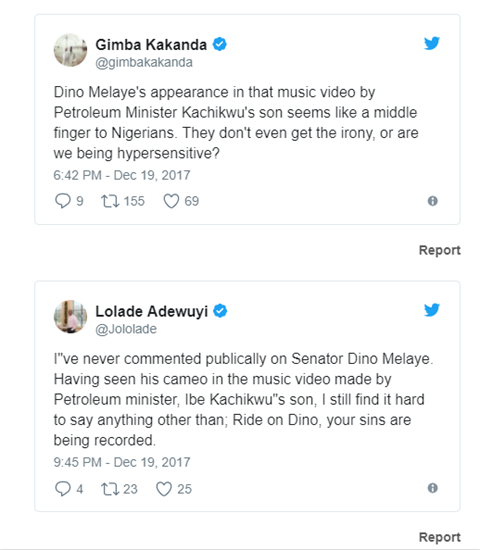 Others are more impressed.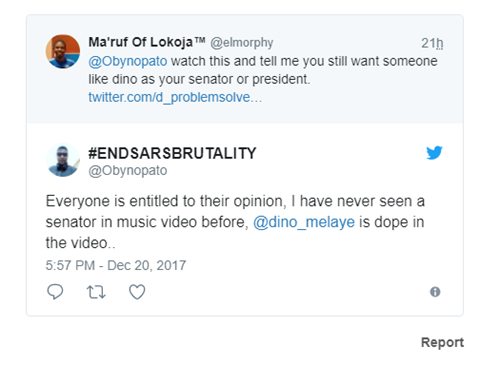 Either way, it seems likely Mr Melaye will survive any fall-out, as the senator appears to thrive on controversy.
He is in the process of being recalled from parliament, once threatened to rape another senator and published a video ranting against those who dared investigate him for corruption, BBC says.
The face he pulled in that video – thumbing his nose those who tell tales – is also pulled in the new video, suggesting he has not been chastened in recent months.
And then there is the fact he has also just been named Kogi State's "best senator since 1999".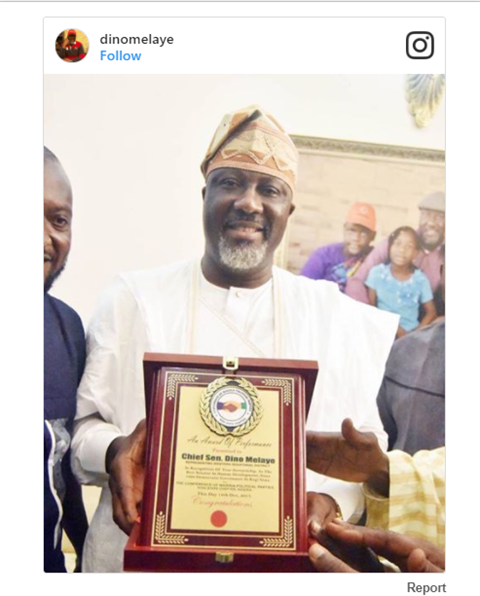 "Flamboyant Nigerian senator Dino Melaye has every right to have fun and act like a star in music videos if he wants to", Afro-Trap singer Kach said.
It is especially galling to some as civil servants in Kogi, Mr Melaye's home state, have not been paid their salaries, some for as long as a year.
But Kach told BBC Pidgin the video, which was only posted a day ago, has already racked up 16,000 views on YouTube, as well as numerous reviews – both good and bad.
"People are just perplexed over the fact that our senator is in the video and all but he was there to support me, and I see nothing wrong with it," he shrugs.
"It's not like he is with a woman or representing the country in the video."
Kach revealed he met Mr Melaye over social media after the senator heard of a song with his name as its title.
Kach, whose father is Minister of Petroleum Resources Ibe Kachikwu, reiterates that he did not use his father's position to advance his career.
"If it were up to my dad, I would not be in music," he said.
He seems to have no regrets concerning the way his video is trending because "whatever people say, whether it be good or bad, it still helps the music". Source: Pocket News