Home
/
Celebrities
/
Actor Jide Kosoko Reveals How His House Was Like A Brothel After His Two Wives Died
Actor Jide Kosoko Reveals How His House Was Like A Brothel After His Two Wives Died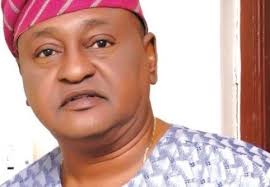 Popular Nollywood actor,
Jide Kosoko
in a recent interview with PUNCH NG's Olushola Ricketts, spoke on an array of subjects from his personal life to
losing his wives and his acting career.
Below are some excerpts from the interview:
What profession do you think you would have been practising if you didn't venture into acting?
I wouldn't know. I don't know what would have become of me if I hadn't taken to acting. What is certain is that I would have been engaged in a profession where I would be able to demonstrate my creativity as well.
I started acting precisely in 1964; I think I was just 10. You know what that means especially at a time when parents didn't allow their children to venture into acting. I started in primary school and since then, I have been acting professionally. My first performance was Makanjuola, a stage play.
Did you ever think you would attain this level of fame?
I might not have known it would get to this extent, but I wanted to be like my role model, Hubert Ogunde. Then, we both lived in the same vicinity. Whenever he passed, people hailed, adored and respected him. Seeing all that, I said to myself that I would love to be like him. That perhaps must have prepared me for what I am today.
How were you able to cross over to English-speaking movies?
I think an actor should be versatile. If I am given a role in the French language category for instance, all I need is time to master the language and I will deliver. If you talk about English, I think I am learned enough to go with the flow. But acting to me is the same all over the world regardless of the difference in languages.
I find acting in Yoruba and English movies fulfilling and I feel comfortable acting in both. We have people who are in this industry and are desperately trying to make money while others just go with the crowd. However, my passion for the industry goes beyond all of that. As one of its pioneer members, it is my desire to see the industry develop at all times. I will continue to contribute my quota until I die.
When was the last time you produced a movie?
I produced a Yoruba movie titled Akanni, last year. It is a comedy movie and I had a good outing.
Was the movie pirated?
There is no movie that doesn't get pirated in Nigeria, especially a successful movie. Piracy is our common enemy. But I strongly believe that the cinema culture, which we are all embracing now, will curb piracy.
Of course, we've asked the government to find a stiffer penalty for pirates because the one in the copyright law is not strong enough. I think it is one of those things encouraging people to pirate other people's works. So, we have begged the government to give a tougher penalty. If possible, they should leave out the option of fine unless the fine is huge and they make sure that offenders pay.
Was there a time you wanted to quit the industry?
There was no time. Yes, there have been challenges. Even when we started and there was no money in it, we enjoyed it and felt happier doing it than now that there seems to be more money in showbiz. Then, we were doing it for the passion, but when money started coming in, the happiness was divided. My best periods in life are when I am on set working because I love my job so much.
Did you encourage your children to take after you?
I feel so happy about it because it goes a long way to say that I have been institutionalised. I have passed the baton on to them and they will also pass it to one or two of their children. Once it continues like this, our name will remain indelible. At the moment, I don't really watch my movies anymore. I prefer to watch the ones my children featured in. Whenever I sight loopholes, I try to call their attention to it. If their argument is superior to mine, I surrender.
How come your daughter, Bidemi, is always in the news for the wrong reasons?
All the people blackmailing my daughter are bastards. If truly she did whatever they've said she did (dating a married man), whether she likes it or not, she will be punished. But if they are telling lies and trying to destroy her image, the people involved will not go unpunished.
If you know Bidemi well, she is highly disciplined and she has her own way of doing things. Unlike her sister, Sola, Bidemi is outspoken and principled. I don't think it is an offence to be principled. So, if she doesn't take nonsense, so be it.
Everyone cannot be like me. Though it is good to be humble, I can tell you that being humble also attracts unnecessary insults. Since some people don't like being insulted, they keep to themselves. But people like to attribute it to many things. If you decide to blackmail people unnecessarily, then, you must check yourself. It means something is wrong with you, and there is a problem between you and God.
So you are certain your daughter didn't have an affair with Bose Alao's husband?
When I heard the news, the first thing I did was to call her to know what went wrong. I know if she had done that, she would not tell me she did it, but I know my daughter. Apart from seeing her grow, even as an adult, I am very close to my children and I know what they do every minute. If you ask me where Bidemi is as I speak with you, I will tell you. I don't joke with my female children especially. Their lifestyle is important to me.
For people who are always blackmailing our actresses, they should turn a new leaf. This is part of the disadvantages of the social media, as everyone wants to talk. A friend once told me that some people are mentally disturbed or sick. Since no one checks what they say, they say whatever they like and get away with it.
I am not saying our actresses are completely innocent. We actually have people with funny characters, but the majority of them do not engage in the things they are accused of.
Are you closer to your daughters than your sons?
The female children have challenges mostly. If anyone goes after a lady and she shuns his advances, he may go to social media to insult her.
I always advise journalists to stay away from false stories because the more you get into them, the more trouble you find for yourself. We've forgotten some journalists today even though they are still alive. Instead of them to practise the profession diligently, they were busy blackmailing people.
Have you ever been blackmailed?
That is not news anymore. I have been blackmailed many times, but I sailed through. They have called me a 'ritualist' before, which means I am a murderer.
What came to mind when certain people claimed you used your wives for rituals?
Initially, as a human being, I felt bad. But my skin is too thick for all that rubbish. Instead of feeling bad, I will go on my knees and pray to God to give His judgment. And I always see these people get their judgment. I don't want to mention names. I don't know anything about what is happening to Kemi Olunloyo and I don't follow her on social media. Apart from her, there are other people who have rubbished my name in the past.
Do you see yourself getting married again?
At my age and with over a dozen children, why should I marry another wife? I still have a wife, but people are mixing things up. I have heard many terrible things about me. There was a time some people said I have moved in with another woman. They have forgotten that my wife, who is still with me, Alhaja Bimbo, was a senior to my late wife, Henrietta. The first child we had together has graduated in America, but they think I just got a new wife. She is the only woman left with me.

What do I need another wife for? Maybe you can tell me. Becoming a polygamist wasn't my design. With my upbringing, I am not supposed to be a polygamist. Though my father was a polygamist, he didn't marry the number of women I have married.

My first wife, Sola's mother, was working with the Nigerian Customs Service. She was not involved in my industry and then I would travel for two months. So, I was tempted to take a second wife. But unfortunately for me, in the circumstances I cannot explain till today, I lost two wives within a year. You can imagine that! So, I decided not to remarry again, though I had girlfriends; I was a ladies' man.

Two of my girlfriends were very close to the house and my friends too would come with their girlfriends. So, we were almost turning the house into a brothel. Later, my doctor, a lady, visited me and advised me to remarry. She said it was the best for me, insisting that I was too young to be without a woman. I lost my two wives in 1992 and 1993 respectively, and I was not up to 40 then.

I agreed to take a wife in the long run, but I had two women who were intimate with me – Henrietta and Alhaja Bimbo. Since I couldn't say no to either of them, I married two wives again.
Do you regret marrying many wives?
At a point, when I started having issues, yes, I regretted. I said to myself that if I didn't have more than a wife, I would not be in the news in a bad light. But am I the only one that has domestic family problems? I don't think I am the only one. Without being too negative or defensive, we have seen a family where the children, father, and mother died at the same time.
I thank God for all that might have happened to me. But regrets come when there are issues. But all my wives have given me beautiful and responsible children.
How have you been coping without Henrietta?
I cannot say it has been easy because her memory will never leave me. She was in the industry with me for a very long time, for 22 years. We were acting and moving around together. All that has been written about her in the media is enough for me to continue to think about her. She had her own shortcomings and I have mine too, but we endured each other. With all the things she did, I will continue to miss her.
–
–
–
–
–
Source: PUNCH NG